Welcome to Handiham World!
Handiham History: The new guy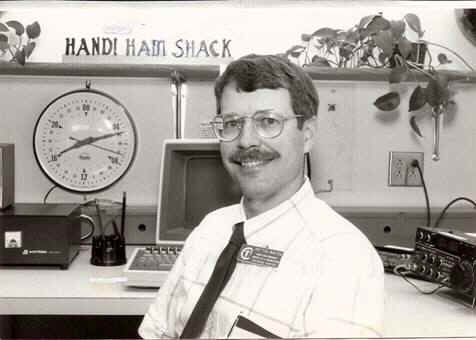 Image: Pat, WA0TDA, in the W0ZSW ham shack, circa 1991. Now that I look at it, I look pretty dorky with those big glasses, but they were the style back then. No excuses for that goofy smile, though! That ancient terminal in the background was probably for packet radio. Black & white image scanned by George, N0SBU.
Back in in the early 1990's, Bruce Humphrys, K0HR, the Handiham Manager, left Courage Center to run another non-profit. I was in the market for a part-time job, having spent a couple of years at home with our newborn son. My wife Susie spotted an ad in the newspaper (of all places) for this odd-sounding job as Handiham Manager at the Courage Center. Did I want to apply?
Well, I did apply and was interviewed by Bruce himself. I ended up taking the job, and went to full time a couple of years later. As the new guy at Handiham headquarters, I needed to learn pretty much everything. Thankfully, Sister Alverna O'Laughlin, WA0SGJ, and Maureen Pranghofer, KF0I, were good at their respective jobs as Education Coordinator and Student Coordinator, and they helped me figure things out.
When George started the Handiham History project, I got to thinking about how the headquarters offices have changed over the years. When that dorky photo was taken back in 1991, Jane Rova was our Handiham secretary, and her desk had our one and only piece of high-tech office equipment: an IBM Selectric typewriter. We communicated by postal mail and telephone, and that was pretty much it.
Today, the volume of postal mail has shrunk to a trickle, having been replaced with email. While we still use the telephone a lot, email has even replaced a lot of what used to be done by phone. The website has been online since the late 1990's, and it has grown into a colossus that serves up Handiham audio and news on demand, replacing thousands of tape cassettes that used to travel to our members by mail. The website has made it possible to publish a weekly edition of Handiham World instead of a four times per year paper edition, which is how it was in 1991. Even better, the new technology makes everything more accessible and immediate for our members!
People often ask me what those staff members from the early days are doing today. Jane is retired, as is Sister Alverna. Sister lives in her Franciscan community at Assisi Heights, in Rochester, MN. Interestingly enough, that is where she lived when Handihams first started and where she became one of the first volunteers back in 1967. She still holds her original call, WA0SJG. Of course her Novice call, WN0SGJ, was modified to change the "N" to an "A" when she earned General. She currently holds an Advanced ticket. Maureen, KF0I, now operates her own business, which does custom professional Brailling. She lives a few blocks from Courage Center, and holds her Extra ticket. As far as I know, Bruce is still working at a non-profit that provides water and simple technologies to people in Africa.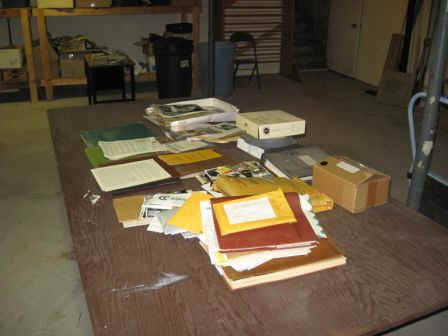 Image: The N0SBU basement table, filled with Handiham history stuff.
Meanwhile, back at the ranch in Hugo, George LaValle, N0SBU, has spread out lots of Handiham photos, old newsletters, and memorabilia out on a big table in his basement. As George sorts through everything, he is writing some stories and re-writing some of the text in old Handiham documents for inclusion in our weekly e-letter. We will have much more later on.