Welcome to Handiham World.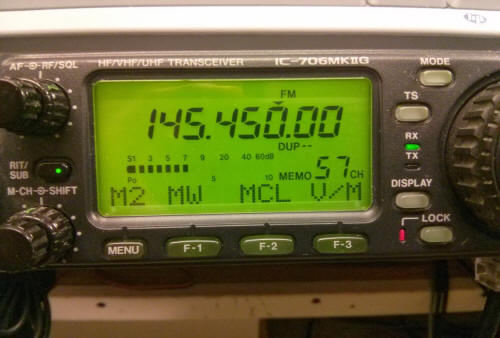 In praise of reliability
Today I want to give a shout out to a very special class of people: those in the amateur radio community who provide services for the rest of us to use and who do so consistently and reliably year after year after year. These are the people who operate repeater systems that the rest of us use. Think about it; how many times have you used your mobile radio or handheld radio without much of a thought as to the technology that supports it: the repeater system? That's the reason for the photo of the ICOM IC 706 Mark 2G showing the 145.45 MHz frequency on the display. Don Rice, N0BVE, operates the wide-area N0BVE repeater system on that frequency here in the Twin Cities that is one of our best resources for consistent, reliable VHF communications year in and year out. Don volunteers with us and supports the VoIP connectivity that makes the daily Handiham net possible. More to the point, Don keeps his equipment in good working order so that it does remain in service and is ready to use when any of us pushes that push to talk button on the microphone. That's why I think we need to give Don and repeater owners like him a big thank you. You guys are keeping us connected!
Of course there are plenty of other people maintaining amateur radio infrastructure. These days, we are talking about the Internet connectivity we enjoy through Echolink, IRLP, WIRES, and other VoIP systems. Often times the effort and resources that go into maintaining such services may go unnoticed and unheralded, simply because their seamless integration into the interconnected repeater systems lies somewhat beneath the surface. Nonetheless, behind all of this stuff there are dedicated amateur radio operators working tirelessly to advance the science and art of Amateur Radio. Be assured that we appreciate and thank all of you!
Make the best use of your repeater system
One of the things that we can do to promote best practices in amateur radio is to lead by showing good example.