The Handiham World Weekly E-Letter for the week of 19-21 July 2006
This is a weekly news & information update from Courage Center's Handiham System. Please do not reply to this message. Use the contact information below, or simply email handiham@courage.org. For subscribe/unsubscribe information, please see the bottom of the page.

Listen in MP3 or RealAudio, later in the day, after podcast audio is posted. The text of the e-letter must be mailed before the audio is put on the website in order to get news out as quickly as possible. Audio appears later in the same day, so if you check too early, the instant this mailing arrives, you will hear last week's audio:


Streaming MP3:
http://www.handiham.org/audio/handiham.m3u

Download the e-letter via accessible MP3:
http://www.handiham.org/audio/handiham.mp3

The Handiham podcast is at:
http://feeds.feedburner.com/handiham

---

In this edition you will find:
Summer heat translates into VHF propagation

Avery's QTH: Brother, can ya spare me a rig?

Husband & Wife Field Day Team

Ham Radio trumps the cell phone - in Mumbai (Bombay)

AT this week: Steady as she goes!

QCWA audio digest for summer is mailed

Still room at Radio Camp - we are way OVER halfway there

Poor, poor, shy Avery

...and lots of other stuff. Tune in today!
---
Greetings, everyone.
We are deep into a drought and heat wave here in Minnesota. High dew points combined with warm weather and frontal movements can bring severe weather, including high winds, tornados, and heavy rains with flash flooding. Yes, summer can be mighty uncomfortable, but this kind of hot weather presents us with the opportunity to make ourselves useful as emergency communicators in SKYWARN or other public service activities. I've talked about all that before, and I know you have taken steps to get your stations ready. So instead, I want to tell you about another summer phenomenon: summer VHF propagation.
During the hot summer days, I hear hams talking about making six meter contacts. I thought, "why not try listening on six and see if I can hear anything?" Many of us have six meter gear that has seldom or never even been tried on that band. In my case, it is an Icom IC-706 Mark 2 G.
So on one particularly hot day, which happened to fall on a weekend, I retreated as far away from yard work as I could and hid in the basement ham shack. As usual, I turned on a two meter rig that always listens on a local repeater. I heard stations from Fargo, North Dakota, hundreds of miles away, working through another repeater. Obviously the summer propagation was favorable for long-distance communications on VHF, so I decided to switch on the Icom 706 and try 50.125, the USA National SSB Simplex Frequency (USB). The first problem I encountered was an odd whistle on 50.125. It was repeated on some other frequencies up and down the band, so it would require some sleuthing to locate the source.
"That can wait", I thought. "The band opening is NOW."
So I continued tuning the band, and sure enough, there were stations hundreds of miles away having QSO's. Believe it or not, after almost 40 years as a ham, this was the first time I had ever heard this kind of six meter skip on my own equipment!
Now I have some work to do. I have to trace the interference problem. The usual suspects are other radios in the shack, the computers around the house, and switching power supplies. After that, there is the antenna system, which needs to work for six meter transmit. A bit of research will be needed there, too. Finally, I think I need to talk with someone in my club who works VHF SSB. Maybe I can get some beginner's operating tips.
I never thought I'd be thinking this, but I'm glad we have a bit of hot weather ahead of us yet this summer, so I can check out those band openings!
Patrick Tice
patt@courage.org
Handiham Manager
---
Avery's QTH: Brother, can ya spare me a rig?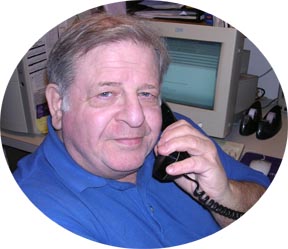 Picture: Avery with phone. "Operators are standing by."
Welcome once again to my humble QTH:
In one of my weekly columns, I told you about the Handiham equipment loan program, and how we have a waiting list and not enough donations of used ham radio gear. The idea was to alert potential donors about the need that is out there. We have hams who cannot afford gear to get on the air.
Now it seems that all of a sudden we are getting more equipment loan requests than ever! I guess people read that column or heard me on the audio podcast and learned about the loan program. Of course we have also heard from some donors.
There is what I call a "Wish List." It is a database where I keep a list of people requesting various items by the date the request comes in. This list has been very long for some time now, and it is getting longer.
When a gift of equipment comes in, I open the list, checking with the people in the order they are on the list to see if they are still interested in the item. If they still have an interest, we fill out a loan agreement form and send it to the person for signing. Basically the loan agreement just says that a person will not sell, trade, or give away the item being loaned out and that when the person is done using it they will return it so that someone else may use it. Also, it states that the equipment will be used with in the rules and regulations as stated by the Federal Communications Commission. Once the loan agreement is signed and returned to us along with the shipping charges, we ship the item out. If for some reason they no longer desire the item the next person on the list is contacted to see if they still want the equipment.
In order to be placed on the "Wish List", a person must have a valid amateur radio license and have been a Handiham member for at least a year, or have achieved a new license or upgrade while a member. There are some other ways to get on the list, such as attending a Handiham Radio Camp. Many years ago when we started the loan program, we soon found out that a few people would take advantage of us by joining Handihams only to get equipment. Sometimes we would never hear from them again once they received the gear, and in a few cases, they sold or ruined the gear and asked for more! Now we are much wiser because we get to know our members who request gear, and the members in turn benefit by working toward a ham radio goal. It is a win-win situation for everyone: we get can get more hams on the air, and the kind donors who help us with gifts of radio gear they no longer use have found a great way to share the fun of ham radio with others!
If you have equipment to donate, or if you are a person with a disability who would like to learn more about amateur radio, Just give me a call, toll-free, at 1-866-426-3442, or email me at
avery.finn@courage.org
Until next time, best 73 from K0HLA, Avery
---
Husband & Wife Field Day Team: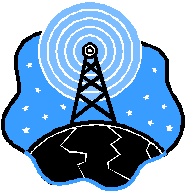 Hello, Handiham readers and listeners!
I am Marilyn Dorn, N7NWQ, and I live with my husband Larry, N7MRN, in Pahrump, Nevada. We are both blind and have done many a Field Day in local parks and in the mountains. The past few years, we've decided it's much easier on us to work Field Day from home.
Rather than go for number of contacts or points, we find ourselves striving for working all states, as many Canadian provinces as possible, and at least one overseas contact, whether or not that contact is part of Field Day proper.
We've come as close as all but one state on Field Day before, but it wasn't until this year that we finally got them all. Even more amazing to me is that the whole list was checked off with contacts on 20 meters. The band was wide open throughout the entire contest.
We put a list of states and provinces onto a digital recorder before Field Day starts. As we make contacts, we delete these from the list. That way we have an easy way to review what we still need. By the time we both headed for bed by about 1:30 a.m. Pacific time, we only needed 1 state... Connecticut. When I woke at about 8:30 I decided to see what was on the bands instead of heading back to bed and losing the morning hours. I heard a 1 call and tried for it, just in case he was in CT. I got a response immediately and, when he said he was in Connecticut, I asked him to repeat it. I was afraid I was projecting my desperate wish for CT. He was indeed in CT. I deleted it from our list, woke Larry to tell him that I'd gotten the last one, we exchanged a kiss and some "woo-hoo's," and went back to bed.
We got only four provinces from Canada this year, but we got Barcelona, Spain and the Virgin Islands. When checking notes on who got which states, we were also surprised to find that we'd each gotten 25 of them. How's that for sharing the work?
Somehow the goal of working the states has overtaken the idea of counting contacts. It can be difficult for blind hams to keep track of duplicates as well, unless you have computer logging, which we don't. It's a fun and different way of participating in Field Day. Field Day is my one contest and big ham radio day. I've been hooked on it ever since my first one as a Novice in 1989.
73, Marilyn, N7NWQ
---
Ham Radio trumps the cell phone - in Mumbai (Bombay)
Here is another media hit for ham radio, and it just goes to show that amateur radio operators around the world are ready to communicate, even when the brittle technologies like cellular phones fail.
CNN-IBN reports that when Mumbai was attacked on 7/11, cell phone connections failed but there was an alternative: Ham radio. You can read the story, entitled "HAM bailed city out of mobile mess", on IBN:
http://www.ibnlive.com/news/ham-bailed-city-out-of-mobile-mess/15488-3.html
Thanks to Jean, KC0HKB, who works to further health, disability rights, and world peace from Pune, India, for alerting us to this story. Find out what Jean is up to by reading this article that appeared in "The Hindu":
http://www.hinduonnet.com/thehindu/mp/2005/05/31/stories/2005053100520400.htm
I first met Jean at California Radio Camp, where she just bowled us all over with her high-energy approach reporting for Radio For Peace International. We all knew she would make a great ham radio operator, because she has a passion for communicating and drive to accomplish her goals. You can hear her Disability Radio Worldwide reports on shortwave radio and via the Internet. Find out more here:
http://www.rfpi.org/disabilityradio/
---
Assistive Tech This Week:
Assistive Tech is "AT", or assistive technology for people with disabilities. It may be loosely defined as any kind of device or technology that helps a person with a disability to perform a task.

It could be a special spoon that is easier to hold, a speech chip in an amateur radio transceiver, or a software program that allows a blind user to hear what is displayed on a computer screen. We have decided to feature a new AT idea in this space on a regular basis, so let us know if you hear about some new technology, however simple or complicated, that may help people with disabilities to get things done!
Steady as she goes!
Here is a freeware computer program that may be of use to hams who have Parkinson's or other conditions that cause hand tremors.
The program is called SteadyMouse, and can be found at:
http://www.steadymouse.com
Thanks to Andy, KB9JOZ, for the news about SteadyMouse.
Send your ideas about AT to patt@courage.org and we will feature them here. You can also let me know if you would like to visit Courage Center to learn more about assistive technology. We can even train you to use JAWS!
---
| | |
| --- | --- |
| | At Handiham headquarters this week |
---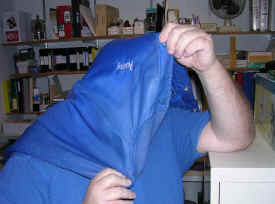 Poor, poor Avery again this week.
He is becoming so famous that now Hap Holly, KC9RP, is going to interview him for the RAIN Report. He is a little nervous, but we know he will calm down and do OK. It will probably be best if he tries not to think about all those thousands and thousands of listeners all around the world who are going to be hanging on his every word of ham radio wisdom. Instead, contact Avery with a day-brightener about your donation to the Handiham Equipment Loan program at:
avery.finn@courage.org.
Listen to the latest RAIN Report in MP3 audio each week here:
http://www.therainreport.com/sound/rainreport.mp3
---
QCWA Summer 2006 audio digest is available to QCWA members in Handiham audio tape format, and will be mailed today. For Handiham members reading the Handiham monthly magazine digest, the audio will be available along with the other magazines in the August tape digest, and as soon as I can post it in members only online for our blind and print-impaired members. Hopefully this will be by the end of the week. August QST digest has been read by Bob Zeida, N1BLF, and Bob says he is working on Worldradio at this time. Since August QST is the antenna issue, I'll summarize the highlights of the antenna articles in audio.
---
We are going to investigate the emerging "Daisy" format for our audio materials. If you are attending Minnesota Radio Camp and can help us by being in the Handiham Accessibility Discussion Group, please email Pat at:
patt@courage.org.
DAISY stands for Digital Audio-Based Information System.
Let me know if you think we should widen this discussion to other audio delivery systems. Email
patt@courage.org.
---
We still need a few good campers! We are now well over halfway there. Remember, we want to know if you are coming by the end of this month, so we can plan the camp! If you don't show up, can I have your dessert after dinner?
Minnesota Radio Camp will begin on Wednesday, August 23 and finish on Wednesday, August 30. There will be an accessible VE session on Tuesday, August 29. Wheelchairs, service animals, and other adaptations are accommodated at Handiham Radio Camps. Sign language is also spoken at camp, and readers are provided for those needing that service during VE sessions.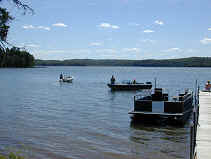 A complete ham radio station with tower and beam antenna allows us to work the world. High-speed Internet is available at Courage North. Our location on beautiful Lake George allows plenty of opportunity for lakeside activities, including maritime mobile operation from our wheelchair-accessible pontoon boats.

We can send you information and a Minnesota Radio Camp application packet. Call Nancy toll-free at 1-866-426-3442 or send her an email at
hamradio@courage.org.

---
Monday's Handiham EchoLink net
is at 19:00 USA Central Time (Tuesday morning at 00:00 GMT) on the Minnetonka Radio Club 145.450 N0BVE repeater system here in the Twin Cities. On EchoLink, look for N0BVE, node 89680. The noontime net is at 12:00 CT, or 17:00 GMT Monday through Saturday.

Remember, you add five hours during the summer to convert Minnesota daylight time to GMT.

---
We are always looking for new material for the manuals directory for our blind members:
http://www.handiham.org/manuals
If you have anything to contribute in document, text, or mp3 audio, please contact
wa0tda@arrl.net.



Let's ask Elmer!
Elmer is on his summer vacation. We are hoping he will write us soon and let us know where he is!
His email address is:
elmer@handiham.org
Editor's note: No email is ever sent FROM the elmer@handiham.org address. This address has been harvested by spammers and used as a spoof address. Never open any email from Elmer's address. We report all such occurrences to the FTC.
---
RekkyTec Links
Six meter resources:
---
73 from all of us at the Courage Handiham System!
Pat, WA0TDA
Manager, Courage Handi-ham System
Reach me by email at:
patt@courage.org
ARRL is the premier organization supporting amateur radio worldwide. Please contact Handihams for help joining the ARRL. We will be happy to help you fill out the paperwork!
The weekly e-letter is a compilation of software tips, operating information, and Handiham news. It is published on Wednesdays, and is available to everyone in a choice of formats. To administer your subscription to the HTML version, go to:
http://www.handiham.org/mailman/listinfo/handiham-list.
The text-only version is at:
http://www.handiham.org/mailman/listinfo/handiham-text-list.