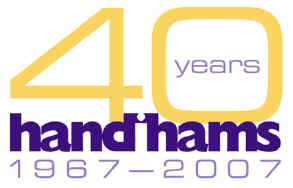 In this issue you will find:
We're baaaack!

Avery' QTH: Avery & his buds go shopping

W2TSE puts Seeing Eye on the air

Audio delivery plan from NLS

Open General - study quick!

Worldradio digest for June

Links to Fair Radio, CQ Serenade

Eat like a radio camper, Yum, Yum.
...and lots of other stuff. Tune in today!

---
Back from the show
Greetings, everyone!

Photo: Pat, WA0TDA, at the Handi-Ham booth, Hamvention '07.

Well, we are back from Dayton Hamvention and we have some interesting stories to tell you. Over the next few weeks we will probably remember something funny or interesting that we encountered during the world's largest amateur radio trade show. We want to thank the wonderful people at Hamvention for everything they do for amateur radio and the Courage Handiham System. Of course our volunteers deserve special recognition for reserving the booth space, arranging hotel accommodations, staffing the booth, and doing set up and take down. Thanks to John Hoenshell, N0BFJ, Larry Huggins, KA0LSG, and Jennifer Thompson, KC9AGR, for booth duties. Also, a special thanks to Avery Finn, K0HLA, for stopping by the booth frequently during the show and being willing to pose for some new "Avery's QTH" pictures.

Regular Hamvention goers will remember many weekends that included heavy rain and cold wind. This was especially true when Hamvention used to be held during the month of April. The Hamvention committee wisely moved the show date to mid-May, which definitely helped in the weather department. In fact, the weather was absolutely perfect -- not too hot or too cold or too windy or too anything. It made strolling around the enormous outdoor flea market a rather pleasant experience. It was fun to look at all the stuff that people think they are going to sell. I say "think", because some of that stuff... oh, gosh. If I ever brought some of those things home, I would be sleeping in the garage for sure! On the other hand, there is always some really good stuff. I generally shop for small items like replacement connectors, computer parts and wires, electronic parts, and small hand tools in the flea market. I am never disappointed in the selection. While musing over some audio equipment at one of the outdoor vendors, I spotted Chris Peterson, KG0BP, one of our long-time Handiham volunteer instructors. As many of you know, Chris is the producer and star of the audio shows "The Space Report" and "Chris's Radio Therapy". Chris advised me that we really should do something about our Handiham podcast audio quality, which even we have to admit is somewhat, um, borderline. He suggested a small mixer and a better microphone, which I will certainly look into. One thing we are doing with this podcast is increasing the sample rate to provide better audio quality. I welcome your feedback on how we sound.

But back to the show. Inside, there are acres and acres of vendors. Anything and everything having to do with ham radio is available at Hamvention, and the good thing is that you can see most of it right there in front of you! New transceivers and other new equipment frequently show up for the first time at Hamvention time. That is also usually the time new amateur radio study materials are offered for whatever new question pools are coming online July 1.

You cannot possibly see everything in only one day. Our volunteers set up the booth on Thursday, a day that I typically spend on the road driving from Minnesota. On Friday we are ready for a complete day at the show. Since there are more than enough of us to staff the booth, there is always time to walk around inside and outside. Actually, for me this is a very important part of the show. It is not that I am necessarily shopping for new equipment, though I do like to do that. The real value for me is meeting and greeting amateur radio operators at different companies and organizations, from far-flung places around the world, from different organizations like ARRL, FISTS, The RAIN Report, W5YI, and so on. I also delight in talking with supporters of our program like ARRL, Gordon West, and Buckmaster Publishing. Of course there are individual donors and supporters as well, and I enjoy visiting with them face-to-face and finding out what they are doing these days in amateur radio.

Hamvention is truly a great experience. If you have never been there, you should think about trying to make next year's show.


Patrick Tice, WA0TDA
patt@courage.org
wa0tda@arrl.net
Handiham Manager