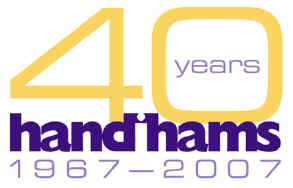 In this issue you will find:
Avery's QTH
...and lots of other stuff. Tune in today!

---
Greetings from my work-at-home office and ham shack!
I am taking a week of vacation, but thankfully Avery is still in the office and he has sent you another edition of Avery's QTH.
There are no Friday audio lectures.
Patrick Tice
wa0tda@arrl.net
Handiham Manager
---
Photo: Avery looks for new funny stories with the largest magnifier he can find!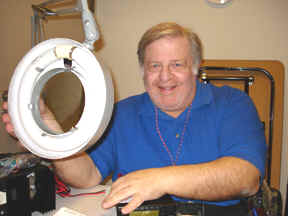 Welcome once again to my humble QTH:
Gosh, folks! I think we started something here as the funnies just keep rolling in. Here we go with this week's.
From Stanley Logvynenko somewhere in cyberspace:
Way back in the 1950's there was disaster in a coal mine in Nova Scotia Canada. Everyone was at the entrance waiting and waiting to be rescued. Also waiting at the entrance was this reporter. Every once in a while he would flash his camera's flash just to check his battery and it worked faithfully. After 24 hours the rescued miners started to come out and this reporter wanted to take the picture so he pointed the camera pressed the button but no FLASH...... He killed the battery by checking the flash too many times!
From David Depew, KF6TPQ, Burbank, CA:
This is not a funny, but is interesting at this 50th anniversary of the launch of Sputnik and of our U.S. satellite in January, 1958. In my senior year of high school in 1957-1958, I was taking chemistry. For my term paper, I wrote about ancient batteries. Electroplated jewelry from about 1,500 years ago had been found. The electric batteries used electrodes of copper and of iron with fruit juice as the electrolyte.
To research this, I went to the main Los Angeles City Public Library in 1958. As I looked through books on electricity and electronics from the early 20th century, there was something interesting. The old style cardboard cards were in the pockets inside the front of each book. Virtually all of those books had been checked out by "JPL" the Jet Propulsion Laboratory in Pasadena. JPL had designed, built and launched the Explorer 1 satellite in three months. I think that when they got the order to promptly build the satellite, someone was assigned to research in all the old library books for all possible information on batteries, in the hopes of building good batteries for the satellites.
In the 1980's, I met the man who designed and built the first little tape player that was in our PROJECT SCORE satellite. It carried a prerecorded Christmas message from President Eisenhower and broadcast it on December 19, 1958. That was the first voice ever beamed to earth from space.
I hope you enjoyed these week's funnies. Send me some more!
So until next time 73 es DX de K0HLA Avery
You can email Avery with your funny stories or anything else at:
avery.finn@courage.org