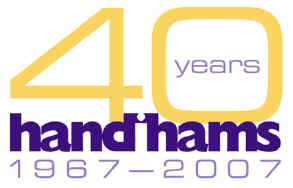 In this issue you will find:
Last call for antenna work in Minnesota!

At headquarters: Camp dates set for 2008, Lifetime membership considered

Avery's QTH: A physics experiment convinces the judge
Open-source screenreader project
Handiham volunteer admitted to Supreme Court Bar

Framingham ARA supports Handiham program

Meteor scatter fans - get ready for early Orionids

Straight Key Century Club membership won't break the bank
...and lots of other stuff. Tune in today!

---
Greetings from my work-at-home office and ham shack!
I'm tanned, rested, and ready after a week of vacation. Well, no, I'm really not, since all I did was take a week off to get things done around the house. At least I had time to finally rehabilitate my zepp antenna by replacing the entire length of wire, trimming all encroaching tree branches, and replacing and re-orienting the 450 Ohm ladder line that feeds it. An inspection of the Butternut vertical revealed that a piece of hardware had come loose, nearly allowing a stainless steel bolt to work its way out of the middle of the antenna. I replaced that from the old junk box and antenna bone yard that every ham worth his or her salt has squirreled away somewhere, and everything tests out as "good to go". Up here in Minnesota, we never trust winter weather to hold off too much beyond October, so one needs to get the antenna work out of the way before then. I remember a huge blizzard on Halloween one year (1991), and the snowfall exceeded three feet at my QTH. It would be a major downer to be in the middle of an antenna project and wake up to that! Who wants to spend the winter watching TV, when there is all that great DX on the ham bands during the winter months?
After that experience, I now look at Halloween as a sort of target date for getting antenna work completed. I know that I can always do any kit-building or experimenting with new modes later on, but it really is the "last call for antenna work in Minnesota" right now. If you are having trouble getting motivated, which sometimes happens when you have several antenna systems to maintain), you might consider performing "triage", the way they do at the emergency room when staff have many incoming patients with injuries. I like to begin by looking at anything that is not working and cannot be reached from the ground. Always take care of those things first, since bad weather will make them much more difficult later on. Then move on to the things that don't require so much climbing, such as replacing radial and grounding wires, sealing wire feed through spots in the walls, fixing the fence around the base of the vertical or tower, and so on. Even if bad weather closes in, those things can be taken care of whenever there is a mild weekend.
One bonus of replacing the entire 125 foot length of my zepp antenna is that the old wire can be pressed into service as additional radial wire around the base of my ground-mounted Butternut vertical. That is for an upcoming weekend... if the snow isn't three feet deep by then!