Welcome to Handiham World.
Handiham Office Moving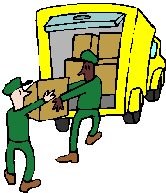 As Jose, KK4JZX, reminded me in an email this morning, change is inevitable. He had three excellent quotes about change:
"Become a student of change. It is the only thing that will remain constant." - Anthony D'Angelo'
"We must learn to view change as a natural phenomenon - to anticipate it and to plan for it. The future is ours to channel in the direction we want to go... we must continually ask ourselves, 'What will happen if...?' or better still, 'How can we make it happen?' " - Lisa Taylor
"All changes, even the most longed for, have their melancholy, for what we leave behind us is a part of ourselves; we must die to one life before we can enter into another." - Anatole France
Well, fasten your seat belts, because we are moving again, thanks to a big change. The Handiham Program, originally part of Courage Center's Camping Department, is moving back to Courage Center. Since 2009 we have been officially "officed" (Is that even a word?) at Camp Courage near Maple Lake, Minnesota. Our mailing address has always been at the main Courage Center address in Golden Valley, Minnesota, and that has not changed. However, we are moving lock, stock, and barrel out of our digs at Camp Courage. There is a fairly short timeline for the move, because the moving truck arrives at camp the last week in October.
This move will address ongoing problems we have had with logistics, since Camp Courage is an hour drive west of the Twin Cities metro area. While any move is disruptive and unsettling (that change thing, you know), it is necessary to help us continue operating the program. In the upcoming weeks we will be extremely busy with this project and will be unable to offer our services at the usual level. Services affected will range from the remote base station availability, tech support on lost or forgotten passwords, detailed communications on technical support issues, the equipment program, and answering the phone. Yes, even answering the phone is difficult when you are planning for and following through with a project this big and time-consuming. On the plus side, Nancy will be able to take most of the regular calls and email messages during the regular hours she works. Since Pat (that's me!) will be managing the move - which is going to mean being away from the phone and computer for long periods of time and traveling to and from Camp Courage (a three hour round trip for me), obviously I will not be available. While I will try my best to stay in touch, I will likely not have time for weekly audio lectures, and perhaps even the weekly e-letter and podcast will see some scheduling changes.
I will know more about when services will resume sometime in November. In the meantime, we appreciate your patience.
Email me at
handiham@couragecenter.org
with your questions & comments.
Patrick Tice, WA0TDA
Handiham Manager
---
Kudos to MFJ

MFJ Enterprises celebrated their 40th anniversary October 5th and 6th (Friday and Saturday) in Starkville, Mississippi. The event was carried live on the W5KUB website, and darn it, I missed it because we were busy all last weekend. This morning, when I checked the W5KUB website, I saw that there is archived video of the event.
It did serve to remind me that MFJ has been around a long time, and when the MFJ catalog arrived in the mail this week, I was intrigued by the huge selection of ham radio accessories that have been added over the years. There are things you just can't find just anywhere - things like azimuth-elevation rotators, ceramic doorknob capacitors, air-wound coils, ceramic insulators and other project parts, feed-through panels for antenna cables, and the Speech Intel Enhancer for people with hearing deficits. It's a rare ham shack that doesn't have at least some MFJ products, that's for sure!
In any case, the annual catalog was a welcome sight in my mailbox, and it enjoys a spot in my periodical collection, within arm's reach from the main operating position in the radio room. Congratulations to MFJ on four decades of providing products to the ham radio community.