Welcome to Handiham World.
Update: Handiham Office Moving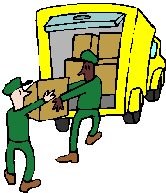 Last week we told you that the Handiham Program, originally part of Courage Center's Camping Department, is moving back to Courage Center. There is a fairly short timeline for the move, because the moving truck arrives at camp the last week in October. Because of the work associated with the move, I will be unavailable on Wednesday. That's why your weekly e-letter is a day early.
The good news is that October is usually a pretty reasonable weather month in Minnesota. But - and this is just Mother Nature's way - it might just not be ideal. I remember one October - it was 1991 - when we were just getting ready for Halloween. My son Will was going to go up and down the block with me on his very first Halloween trick or treat! But the trick was delivered by the weather - we had a huge dump of snow and ice. There was no going out, even to the end of the driveway, so deep was the snow. Even if we could have shoveled our way to the street, the streets were impassable. It would be many hours before travel would even be possible, and days before it became practical.
So I'm hoping that our office move will proceed on a day in late October when we have more typical weather. But recalling that awful blizzard does also remind me that being prepared is a deliberate choice. You have to decide that you are going to be ready for disruptive problems with infrastructure, and that could mean that travel becomes difficult or impossible, the power may fail, or that severe weather will cause anything from localized to widespread damage. Even crime and civil unrest are not out of the question.
Now, I'm not suggesting that you live in fear of such things, nor that you should build some kind of bunker. The reasonable course of action is to start by assessing risk. For example, if you live on the top of a hill you can probably cross floods off your list, but being prepared for lightning or wind damage is pretty reasonable. Risk assessment is an important part of emergency planning, because it takes probabilities into account and that means that you will be adding those items to your list that are most likely to be used in a real emergency. If you are in ARES®, you have probably already attended training sessions or worked alongside public safety officers during emergency practice drills - or maybe even the real thing! But all of us, even if we do not participate directly in public service communications, should be aware of the need for basic emergency preparedness. From a communications standpoint, having a spare portable power source is a good idea. Keeping batteries for handheld radios charged and ready to go in a known safe location in your home is also a must. Keep other grab-and-go items like flashlights, small tools, and the first aid kit in known locations so that any family member can find them quickly.
Not all disasters happen quickly. In the summer we worry more about severe storms moving in with conditions that may spawn tornados in minutes. In the winter the tornado risk drops dramatically but does not disappear altogether. In its place Mother Nature sends us blizzards and ice storms, but these typically move in more slowly and cover wide swaths of geography. Weather radar and satellite images give us much more warning. It is simply an example of how risks are always changing and how our planning and preparation must change as well. A seasonal preparation for us is to get the snow shovels into position at both entrances to the garage and running the snow blower for the first time before the snow arrives. We check our fuel supply and make sure that we have a couple of cans of gasoline, both for the snow blower and for the portable generator. We change the batteries in all of our smoke detectors, and while we are at it check our battery supply and our flashlights.
But the typical ham's go-kit will not change too much with the seasons. The core items related to communications will be the same summer and winter, and it will always be a good idea to keep those batteries charged and check the portable radios periodically. Seasonal preparation will involve adding winter clothing and a blanket, perhaps a small shovel, and extra fuel. Things like bottled water and packaged food can be the same no matter what the season.
Anyway, my point is that we need to be aware of how risks change - and not only be prepared but flexible! You might want to check out the emergency preparedness section on the ARRL website and start with the basics for good, flexible, reliable portable amateur radio operation. Then you need to be sure your home is stocked for the season, bearing in mind that winter could bring you a few surprises!
Finally - and I know some of you may need a reminder - Those antennas out in the back yard or on the tower won't fix themselves if they need service. There is still time to get antenna maintenance done, but that window of opportunity is closing. Having more than one antenna is good insurance if something goes down in the middle of the snow season. When you get done with this edition of your weekly e-letter check your antennas.
We will be checking on the feasibility of keeping remote base stations W0ZSW and W0EQO in operation as an alternative, but with the camp infrastructure (including the Internet providers) changing, there will be some inevitable disruption of service. As most of our readers and listeners know, we do a daily update called "Remote Base Health Report" on Handiham.org. Please check that as much as you can for more timely updates.
The W0EQO repeater will be temporarily decommissioned as a result of the move.
I will know more about when services will resume sometime in November. In the meantime, we appreciate your patience.
Email me at
handiham@couragecenter.org
with your questions & comments.
Patrick Tice, WA0TDA
Handiham Manager