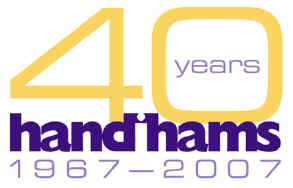 In this issue you will find:
W1AGP is the new voice of ARRL Audio News

Will Talking Books go away?

Take a new Handiham online survey

Avery' QTH:

He gets a call from the FCC!
TM-V7A comments point to a real winner of a radio
K9HI promotes ham radio at Zola Center

July magazines arrive; June audio is posted

Open General - study quick - only one short week left!!!

Elmer goofs off

Links to ham radio audio news from several sources

Eat like a radio camper, Yum, Yum.
...and lots of other stuff. Tune in today!

---
Greetings from Handiham headquarters!
Photo: Allen Pitts, W1AGP, the new voice of ARRL Audio News.
Before we get to the Talking Books story, it has been a busy time of year for many of us with graduating high school seniors. With so much going on, I'm afraid I sometimes get behind in my reading of amateur radio news. Even the ham radio audio newscasts sometimes have to go by the wayside when things get over-the-top busy in our household. I like all of the audio news features, including the RAIN Report, Amateur Radio NEWSLINE, and ARRL Audio News. Anyway, the reason I mention this is that I haven't had time to listen to Allen Pitts, W1AGP, the new voice of ARRL Audio News. I was reminded of this when I saw a note on the ARRL website mentioning that there were some glitches in the audio. Since we are all too familiar from first-hand experience with producing audio that has glitches, I could only be sympathetic! If one is going to have glitches in an amateur radio audio news program, this is probably the time of year to do it because so many of us are too busy to notice in the first place! I hate to admit how far behind I am in my reading of the amateur radio magazines in regular print format.
Well, hopefully that will change as we move ever closer to summer's premier operating event, ARRL Amateur Radio Field Day, some of the initial rush into summer will ease up a bit and we can pay a little bit more attention to amateur radio news and operating. In the meantime, I suggest getting your amateur radio news via audio while you are participating in some other activity like walking or running for exercise, driving your car, or simply relaxing. By telescoping activities this way, you can still keep your self up to date on the latest news without committing any more time to reading. Maybe you really can do two things at once!
Please be sure to give the ARRL Audio News a listen. Allen, W1AGP, is doing a wonderful job. There is a link to his bio in the RekkyTec links later on in this edition.
By the way, those of you who are listening to the Handiham audio this week will hear quite a difference in Avery's QTH. We have finally gotten Avery to sit down at a computer and record his audio using Audacity. I think you will be pleasantly surprised by the difference in audio quality.
Patrick Tice, WA0TDA
Handiham Manager
wa0tda@arrl.net