Courage Center Handiham World Weekly E-Letter for the week of Wednesday, 02 January 2013
This is a free weekly news & information update from Courage Center Handiham System. Our contact information is at the end, or simply email handiham@couragecenter.org for changes in subscriptions or to comment. You can listen to this news online.
MP3 audio stream:
http://www.handiham.org/audio/handiham.m3u
Download the 40 kbs MP3 audio to your portable player:
http://www.handiham.org/audio/handiham.mp3
Get this podcast in iTunes:

http://www.itunes.com/podcast?id=372422406
RSS feed for the audio podcast if you use other podcasting software:
http://feeds.feedburner.com/handiham
---
Welcome to Handiham World.
Call to service? Answer it, but know what you're supposed to do.
Santa delivered my brand-new ARRL Amateur Radio Public Service Handbook right to my door on Christmas Eve. He always has such good timing - I'll bet the sleigh has the best GPS navigation system and the naughty/nice database is in the cloud!
I have always liked ham radio books, but this one is a first edition, so it's especially interesting. As John B. Johnston, W3BE, says in his latest Rules and Regs Digest column (QCWA Journal, Winter 2012, pp. 12-15), "... there is the duty to cooperate in the orderly functioning of our amateur service in satisfying not only its stated purposes but also the additional purposes for which it is now being used – such as incorporating our regulator's strategy for public safety and homeland security, observing protocols for sharing our amateur service spectrum with professional communicators, accommodating the general citizenry worldwide, and obliging unlicensed/under-licensed operators."
The idea that we have an obligation to be part of a ready cadre of emergency communicators in a new world of regulation where we will be working with served agencies and their unlicensed personnel is not exactly a new one in ham radio circles, but John does point out that the licensing structure and the design of the question pool for the entry-level license, Technician, does support this premise more than ever. Historically the Technician license has been one that assured a fair amount of technical expertise in VHF-UHF design and operation. The changed emphasis on the license as an entry-level one and the new focus on emergency communication completely changes the Technician Class landscape.
So how should we respond to this situation?
The answer is that we need to open our minds to flexibility and change. Amateur radio has always been a dynamic, evolving activity. We still need to be safe, competent operators and we should have a working knowledge of how to be public service communicators. That does not mean that we need to abandon all pretense of technical understanding, even though the exams we now give for Technician no longer emphasize the physics of VHF-UHF. Chapter 10, "The Science of Radio - Basics for the EmComm Operator", provides a no-assumptions look at the things any new op needs to know. By "no-assumptions" I mean that the authors do not take it for granted that every license holder understands what causes interference or knows how radio propagation works. You and I may know that bandwidth is limited on HF and that a digital message must be suitably constructed with that constraint in mind, but does every new licensee know that? And remember that emergency communicators like you and I may have to explain the necessity of short messages to the unlicensed staff of served agencies with whom we are working in an emergency. Over my years in amateur radio I have often run across knowledge gaps even among some long-time license holders - even those with higher license classes. No matter how experienced you are, it never hurts to review the basics!
Whether you are an EmComm pro or if you have never taken an EmComm course or volunteered as a public service communicator, there will be plenty to learn from the ARRL Amateur Radio Public Service Handbook.
Patrick Tice, WA0TDA
Handiham Manager
---
W0ZSW photo update
Ever wonder what the remote base station looks like? The answer is that it's surprisingly like a typical ham radio station anywhere, sporting a radio, power supply, and that all-important station accessory: the shack computer.
In this first photo we see the Kenwood TS-480HX transceiver paired with matching SEC switching power supplies. The Systemax rig control computer is in the background, interfaced to the radio with a RIGblaster nomic from West Mountain Radio. The RIGblaster is on top of the antenna tuner, an LDG AT-200PRO. On the wall above the radio there is a board with a two-position coaxial antenna switch that allows us to switch the output of the radio to a dummy load for testing. Our vintage sign, "Amateur Radio Station W0ZSW" sits atop the computer, just beneath the LCD monitor screen. This sign has been in the Handiham radio room for as long as anyone can remember, so it seemed appropriate to keep it in place at the remote base station. Partly obscured by the control head of the radio is a W0ZSW QSL card.
The two power supplies are needed to accommodate the TS-480HX's requirements, since it is capable of running at 200 watts. The same is true of the LDG AT-200PRO antenna tuner. At our sister station, W0EQO at Courage North, the radio is a Kenwood TS-480SAT, which is capable of a maximum 100 watts and thus needs only a single power supply and an LDG AT-100PRO antenna tuner.
This dual-position switch is mounted upside down, which seemed to be the best way to accommodate the heavy RG-8 cables. George, N0SBU, gave me the switch, and I mounted it on a scrap of pine board for stability before affixing it to an outer wall near the point where the antenna cabling goes through the wall. This switch allows for a dummy load antenna to be placed into the circuit so that testing can be done off-air.
Here is a close-up of the RIGblaster nomic interface by West Mountain Radio. In our installation only the microphone audio is interfaced through this device.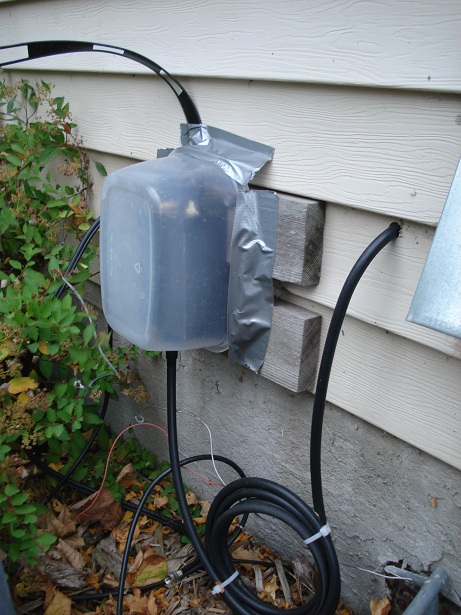 Next, we head outdoors, to the other side of the wall above the antenna switch. We see the coax exiting the wall and dropping down from the entry point so as to prevent water from following the cable into the wall when it rains. The coax is coiled into a five turn choke coil to prevent RF from following the outside of the coax back down into the shack. Under the plastic radome (really just a poly food container) is a rehabilitated MFJ 4 to 1 current balun. 450 ohm ladderline exits the top and goes out to the center insulator of a 200 foot double extended zepp antenna commonly known as a "W0OXB Special®". This photo was taken late last summer, so don't go on the assumption that the greenery on the nearby bush is common in Minnesota in January!
Finally, here is the view from the point of a remote user: The W4MQ screen shows up on a computer monitor and a USB desktop microphone does the honors for voice communications. Remember that there is no microphone at the station itself, since the rig's microphone port is connected via the RIGblaster to the rig control computer's sound card. The W4MQ software will also run CW and PSK-31 with its built-in interfaces for those modes.
---
Events for January by N1YXU

Happy New Year 2013!!! I hope each of you and your families have had a wonderful, relaxing holiday season. I imagine many of you have been affected by the recent weather. My husband and I are included in that number. We recently traveled to Upstate New York and got a taste of the cold, blustery, snowy weather that we used to know. Regardless of the weather, we had a wonderful time catching-up with family.
Since it still may be a little chilly where you are, go and turn on your radio, let it warm up, and then do some operating! You'll find many events this month to hold your interest. Enjoy!
Until next month….
Regards,
- Laurie Meier, N1YXU
n1yxu@arrl.net
Read the N1YXU Events column here:
http://www.handiham.org/drupal2/node/164
---
Correspondence:


Ken, KB3LLA, likes the new NFB-Newsline iPhone app:
Now you can receive your emergency weather alerts right on your iPhone with the NFB-NEWSLINE Mobile App. If there is a weather alert for your area, and your address and zip code is up to date on your NFB-NEWSLINE® account, you will hear a message saying weather alert when you launch your NFB-NEWSLINE® Mobile app, and you will feel your iPhone vibrate. Just double tap on the weather alert button when you hear the alert, and you can read the entire weather alert on your iPhone. Please keep in mind that only the iPhone will vibrate, since only the iPhone has the built-in vibration motor. Those of you running the NFB-NEWSLINE® Mobile App on an iPad or an iPod will only receive the voice alert without the vibration. If you want to get just the vibration alert without the voice alert, you can turn off the voice alert for weather alerts in the settings menu. If you need to update your address and zip code, you can call 1-866-504-7300, or e-mail
nfbnewsline-ios@nfb.org
.
Please note that this is an NFB app and has nothing to do with Amateur Radio Newsline, the excellent weekly newscast from ARNewsline at:
http://www.arnewsline.org
---
Handiham Nets are on on the air!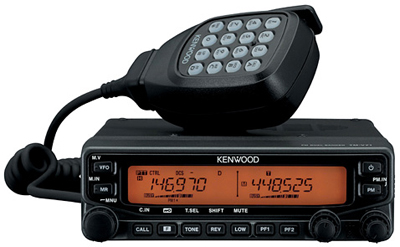 We are on the air daily at 11:00 USA Central Time, plus Wednesday & Thursday evenings at 19:00 USA Central Time.
Join us on the Thursday evening Handiham Radio Club TechNet. The frequency in the local Minnesota repeater coverage zone: 145.45 FM, negative offset with no tone and 444.65 MHz with 114.8 Hz tone in the Twin Cities of Minneapolis and St. Paul Minnesota. The UHF repeater will be heard more easily in the Eastern Twin Cities. You will find our daily net on the air at 11:00 hours USA Central Time, with a Sunday roundtable session for a change of pace. A Wednesday evening session at 19:00 hours USA Central Time also offers a chance to take a guess at a trivia question (offered by some Net Control Stations) and visit with your friends on the air. Ideal for those who can't make the daily morning session! Then Thursday evening at 19:00 hours return to the Tech net and learn something new.
EchoLink nodes:
*HANDIHAM* conference server Node 494492 (Our preferred high-capacity node.)
*VAN-IRLP*, node 256919
KA0PQW-R, node 267582
KA0PQW-L, node 538131
N0BVE-R, node 89680
Other ways to connect:
IRLP node 9008 (Vancouver BC reflector)
WIRES system number 1427
---
A dip in the pool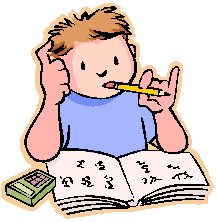 It's time to test our knowledge by taking a dip in the pool - the question pool, that is!

Let's go to the Technician Class pool:
T2C08 asks, "What is usually considered to be the most important job of an amateur operator when handling emergency traffic messages?"
Possible answers are:
A. Passing messages exactly as written, spoken or as received
B. Estimating the number of people affected by the disaster
C. Communicating messages to the news media for broadcast outside the disaster area
D. Broadcasting emergency information to the general public
I hope you chose answer A, Passing messages exactly as written, spoken or as received. It is vital that we act only as the conduit for messages, and that we do not add to or subtract from the original message content. As tempting as it can be to "fill in the blanks" or reword something for clarity, we must instead deliver the message EXACTLY as received.
Please e-mail
handiham@couragecenter.org
to comment.
---
This week @ HQ
Both remote base HF stations are on line. The latest remote base health report is at:
http://www.handiham.org/remote
The January Audio Digest is in production. All December DAISY files are available in the DAISY section of the website following member login. Please let me know if you have trouble using the DAISY files, because this is an important member service and we want you to take advantage of it.
Another member service is the audio lectures for Technician, General, and Extra. All courses are available on line for your use whenever you want to study or review. Teaching is done with thoughtful attention to descriptions for those who are blind, and we promote understanding concepts rather than simply memorizing the question pool. If you would like to use this service but do not understand how, please contact us. We can also put the audio lectures on your DAISY digital NLS cartridge if you prefer that method instead of downloading or streaming audio from the website. Our latest audio lectures cover concepts like resonance from the Extra Class course. Please join us in whatever course you need, and also please let us know if you would like a specific topic covered in our Operating Skills lecture series.
Don't forget that Courage Center is a registered non-profit and your gifts to Handihams are tax deductible. We appreciate your support! Net information and news:
The official and most current net news may be found at:
http://www.handiham.org/nets
Change in address for equipment donations:
Please contact Pat, WA0TDA, before making any donation of equipment. My phone number is 763-520-0511 and my email address is
pat.tice@couragecenter.org
. The address is now the same as our postal mailing address. This should simplify our contact information.
Courage Center Handiham System
3915 Golden Valley Road
Golden Valley, MN 55422
Digital mailers are important:
If you do mail a digital cartridge to us, please be sure that it is an approved free matter mailer. Otherwise it will quickly cost us several dollars to package and mail out, which is more than the cost of the mailer in the first place. We don't have a stock of cartridges or mailers and not including a mailer will result in a long delay getting your request back out to you.
DAISY audio digests are available for our blind members who do not have computers
, playable in your Library of Congress digital player. Handiham members who use these players and who would prefer to receive a copy of the monthly audio digests on the special Library of Congress digital cartridge should send a blank cartridge to us in a cartridge mailer (no envelopes, please), so that we can place the files on it and return it to you via free matter postal mail. Your callsign should be on both the cartridge and the mailer so that we can make sure we know who it's from. Blank cartridges and mailers are available from
APH, the American Printing House for the Blind, Inc.
Digital Talking Book Cartridge Catalog Number: 1-02610-00, Price: $12.00
Digital Talking Book Cartridge Mailer Catalog Number: 1-02611-00, Price: $2.50
Order Toll-Free: (800) 223-1839.
The Library of Congress NLS has a list of vendors for the digital cartridges:

http://www.loc.gov/nls/cartridges/index.html
Get it all on line as an alternative: Visit the DAISY section on the Handiham website after logging in.
---
Stay in touch

Be sure to send Nancy your changes of address, phone number changes, or email address changes so that we can continue to stay in touch with you. You may either email Nancy at hamradio@couragecenter.org or call her at 763-520-0512. If you need to use the toll-free number, call 1-866-426-3442.
Handiham Manager Patrick Tice, WA0TDA, may be reached at handiham@couragecenter.org or by phone at 763-520-0511.
Mornings Monday through Thursday are the best time to contact us.
The Courage Handiham System depends on the support of people like you, who want to share the fun and friendship of ham radio with others. Please help us provide services to people with disabilities. We would really appreciate it if you would remember us in your estate plans. If you need a planning kit, please call. If you are wondering whether a gift of stock can be given to Handihams, the answer is yes! Please call Walt Seibert, KD0LPX, at 763-520-0532 or email him at walt.seibert@couragecenter.org.
Call 1-866-426-3442 toll-free. -- Help us get new hams on the air.
Get the Handiham E-Letter by email every Wednesday, and stay up-to-date with ham radio news.
You may listen in audio to the E-Letter at www.handiham.org.
Email us to subscribe:
hamradio@couragecenter.org
That's it for this week. 73 from all of us at the Courage Handiham System!
Pat, WA0TDA
Manager, Courage Handiham System
Reach me by email at:
handiham@couragecenter.org

Nancy, Handiham Secretary:
hamradio@couragecenter.org

ARRL is the premier organization supporting amateur radio worldwide. Please contact Handihams for help joining the ARRL. We will be happy to help you fill out the paperwork!

The weekly e-letter is a compilation of software tips, operating information, and Handiham news. It is published on Wednesdays, and is available to everyone free of charge. Please email handiham@couragecenter.org for changes of address, unsubscribes, etc. Include your old email address and your new address.